Michael Hugo promised to attend a city council meeting to apologize for his comments about abortion and the cost of special education but skipped out.
Michael Hugo resigned as the chair of the Framingham Democratic Committee in Massachusetts on Thursday following weeks of backlash for complaining about the cost of special needs education for children who are not aborted.
"I have apologized profusely too many times, but it seems obvious to all objective observers that there is something unusual about this particular crisis, in that it has an extraordinary life," Hugo wrote in an email to the committee and obtained by Fox News. "Time will tell as to why this has become a — literally — international story, and why it has been amplified by the Chair of the Ashland Republican Committee."
He also said in his Thursday email that he made his decision after conversations with his wife and Massachusetts state Senate President Karen Spilka, a fellow Democrat.
Parents protest dem who complained about cost for non-aborted disabled kids. Watch:
On Feb. 7, the Framingham City Council held a discussion regarding access to abortion and crisis pregnancy centers in Framingham. Hugo delivered a statement that said he was concerned over unborn babies with defects being misdiagnosed and becoming a strain on the city's school budget if born.
"That becomes a very local issue because our school budget will have to absorb the cost of a child in special education, supplying lots and lots of special services to the children who were born with the defect," Hugo said at the Feb. 7 meeting.
Just ahead of Hugo's resignation, Spilka called for Hugo to step down in a public statement given to the Framingham Source. She called his comments "egregious and totally unacceptable."
"As the sister and long-time legal guardian of a sister with Down Syndrome, I have dedicated my career to advocating for the rights and dignity of persons with disabilities, and my life to raising awareness of the challenges they face and the opportunities they deserve," she wrote. "It is in the best interest of the community that he steps aside."
On Feb. 26, the Framingham Democratic Committee voted down a motion to include a discussion about potentially removing Hugo at a future meeting, but voted unanimously to condemn his remarks.
Following the meeting, Hugo praised the vote, saying the members "heeded the call for furthering our commitment to the common good." He thanked them for their "understanding and empathy."
Parents, meanwhile, protested Hugo outside City Hall on Tuesday night before a city council meeting.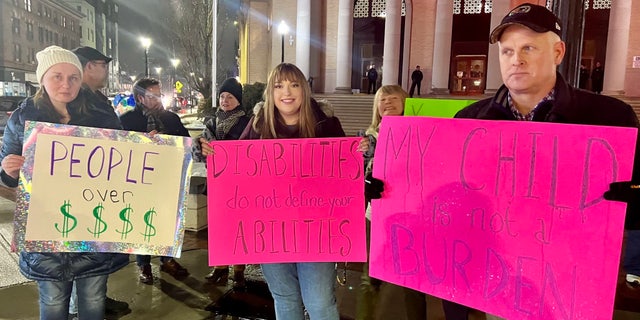 Demonstrators stand outside City Hall in Framingham, Massachusetts, to protest comments by Framingham Democratic Committee chair Michael Hugo. (John Fetherston)
Hugo, who initially planned to attend the meeting but confused the date, said he was unable to attend because he was at a dinner reception with senators and members of Congress.
Source: FOX News