Severe weather is continuing on the East Coast, bringing more opportunities for tornadoes to form in regions that have already experienced several twisters in the past few days.
On Thursday, seven tornadoes were reported in Florida and Georgia. More tornadoes, some with winds up to 60 mph, rolled into Florida's Atlantic coast on Saturday, flipping cars and uprooting trees in places like Palm Beach, Palm Beach Gardens and Boynton Beach.
On Sunday night, Virginia Beach City Manager Patrick Duhaney declared a local state of emergency "after a severe storm and tornado impacted communities in the northern part of the city," according to a press release.
The city estimated that between 50 and 100 homes were damaged.
Residents all over the South woke up Sunday morning to damage caused by violent storms overnight.
More storms are bringing heavy rain and damaging winds to the east on Sunday. A tornado watch was in effect for 19 million residents in Florida until 2 p.m.
The weather extends to the eastern Carolinas and the mid-Atlantic, which are also at risk for damaging winds and isolated tornadoes, forecasts show.
Farther north, heavy rain has been drenching the Northeast all weekend.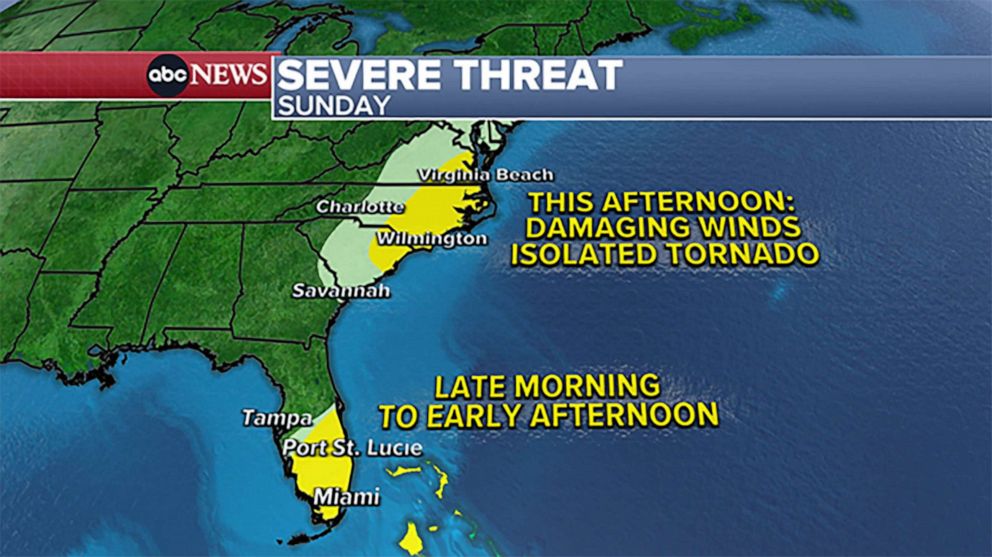 Another round of rain is on the way for cities like Philadelphia, New York, Boston and Hartford, Connecticut.
The heaviest rain will arrive Sunday evening and continue into the overnight hours.
Flood watches have been posted for several states in the Northeast, leading to an additional 1 inch to 3 inches of rain into Sunday night.
While the heaviest of the rain finally moves out of the Northeast by Monday, a stubborn low-pressure system will park itself over the Great Lakes in the next few days, leading to an unsettled period of weather for much of this upcoming week.
Source : ABC News