Pompeo first told "Special Report" he and his wife Susan considered the prospect for months before ultimately concluding it is will not be the course of action at this time.
"I have made a decision," he said. "[We] have prayerfully come to the conclusion we are not going to join the race in 2024. While we care deeply about America and the issues I've been talking about for the past year-and-half – and frankly for decades – matter an awful lot, this isn't our moment."
Pompeo was asked if the presence of his former boss, ex-President Donald Trump, in the race added any weight to his decision, he said it has not – later adding he plans to absolutely support the eventual GOP nominee.
"No, not at all. This is a deeply personal decision for Susan and me and our son, Nick and his wife, Rachel," Pompeo said, adding the GOP needs to focus on policy not personality.
"It wasn't about what this would look like. And frankly, this race, I hope, isn't about people. I hope it's about these ideas."
Pompeo cited his military record as a West Point graduate and U.S. Army officer, saying America is losing its military "edge" and the fact the Treasury spends $2 trillion more than it takes in is concerning.
"These are things that I care about. We were thinking about, can we impact them? Is this the right time for us to go seek the presidency, to go try and work on this? And we just simply came to the conclusion this wasn't this wasn't the moment for us."
When asked if he plans to endorse a candidate in the GOP primary, Pompeo pivoted, saying Biden is doing "disastrous" things to America and its working families – and that he wants to find the candidate who will run an issues-based campaign focused on what matters to working families and American national security.
"When I figure out who that person is, I feel like I've always done in my life, I'll get behind them and do everything I can to help them."
Thus far, Trump is the clear front-runner in GOP presidential nomination polls and is joined in the field by former ambassador and former South Carolina Gov. Nikki Haley, former Arkansas Gov. Asa Hutchinson, and entrepreneur Vivek Ramaswamy. Haley's fellow Palmetto State Republican, Sen. Tim Scott, has formed an exploratory committee.
When presented with Trump's recent remarks about loyalty – in criticisms of potential 2024 contender Florida Gov. Ron DeSantis on "Hannity" – and how the former president did not have an effect on his decision, Pompeo appeared to ding his former boss' proclivity for making social media headlines – saying Americans are "thirsting for people making arguments, not just tweets."
"I think they're looking for someone who can clearly articulate their vision for what parents ought to be doing to help their kids be successful in schools and how we take back crime from our streets and cities," he said.
"I don't know if that will end up being President Trump that the American people choose or if that is who our party will choose to be its nominee. But I'm hopeful that it will be those debates about real arguments, things that really matter.
"And if that happens, America will be in a pretty damn good place."
Pundits had long viewed Pompeo as a likely 2024 contender, as he spent the past two years crisscrossing the country to campaign and help raise money for Republicans running in the 2022 elections. Those travels took Pompeo multiple times to Iowa, New Hampshire, South Carolina and Nevada, the first four states to vote in the Republican presidential nominating calendar – as he strengthened relationships in the early voting presidential primary and caucus states that usually precede the launch of a White House campaign.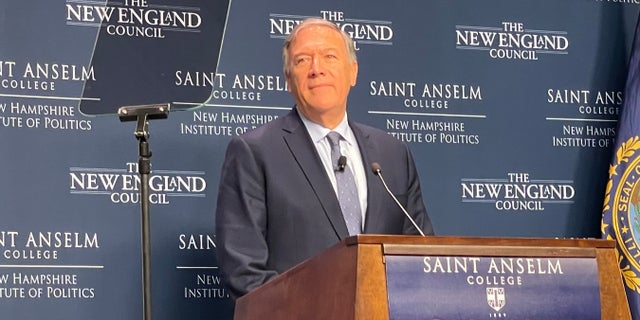 Former Secretary of State Mike Pompeo address the 'Politics and Eggs' speaking series at the New Hampshire Institute of Politics, on Sept. 20, 2022 in Goffstown, N.H. (Fox News )
Pompeo also spent a couple of months earlier this year making stops nationwide as part of a book tour for his memoir "Never Give an Inch: Fighting for the America I Love." The autobiography gives an account of his career as a West Point graduate and Army armor and calvary officer who was stationed in West Germany during the Cold War, a politician who was elected to Congress from Kansas, and who later served as CIA director and America's top diplomat during Trump's administration. Writing a book is a rite of passage for many potential and actual presidential candidates.
In another sign he was seriously mulling a White House bid, Pompeo's political action committee last year went up with ads in the early voting nominating states. And Pompeo, in an interview with Fox News Digital in November about his 2024 plans, answered that "we are doing the things that one would do to be ready to make such an announcement and then to engage with the American people on the ideas that we believe matter."
Source: Fox News