The big picture: Broward County Public Schools said the sixth-largest district in the U.S. would be closed Thursday and Friday as roads were inundated with floodwaters after well over a foot of rainfall fell in some areas over Wednesday night.
The National Weather Service warned Wednesday evening in a rare "flash flood emergency" that was later lifted for areas near Hollywood, Dania Beach and Fort Lauderdale: "This is a life-threatening situation."
By the numbers: The NWS office in Miami tweeted Thursday that preliminary data showed a potentially historic 25.91 inches of rain fell in 24 hours in Fort Lauderdale.
This likely qualifies as a 1-in-1,000-year rainfall, event for that location.
To put this another way, a 1,000-year event means there is a 0.1% chance of it occurring in any individual year.
Dania Beach was slammed with 17.30 inches of rain in 24 hours and Hollywood received 18.16 inches, according to the NWS preliminary data.
Hollywood Mayor Josh Levy told CNN Wednesday the city had "recorded over 12 inches of rain since midnight, and that's on top of consecutive days of seemingly nonstop rain."
According to the NWS, the 24-hour preliminary rainfall total at Ft. Lauderdale was 25.6 inches, which agency meteorologist Victor Murphy noted would be an all-time state record for the most 24-hour rainfall.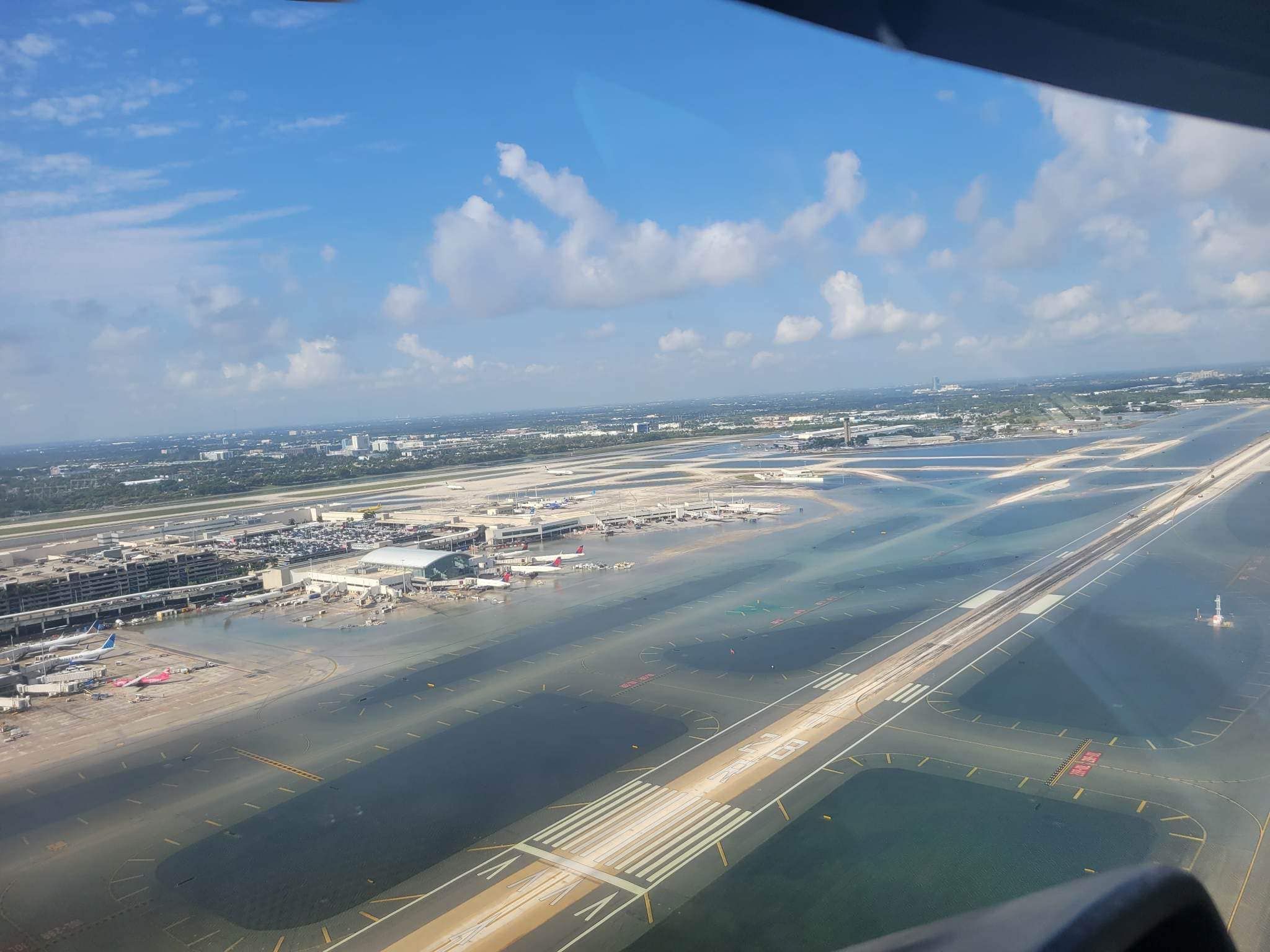 Thought bubble: Such an extreme rainfall event over a localized, highly populated area is a recipe for major economic losses and potentially some loss of life.
Between the lines: Many factors are contributing to this event during Florida's dry season, including the broad area of low pressure over the Gulf and a stalled-out frontal system.
For every 1°C (1.8°F) increase in temperatures, the atmosphere can hold 7% more moisture, which helps fuel storms, as does warming ocean temperatures.
Planners that designed infrastructure to withstand a 100-year flood 20 years ago are now facing the reality that such floods are occurring more frequently as the climate warms and the amount of moisture available to storms increases.
The intrigue: Fort Lauderdale joins the growing list of places hit with damaging deluges during just the past two years. This includes St. Louis, Missouri, Dallas, Texas, and Hazard, Kentucky.
Of note: A flash flood warning was in effect for Ft. Lauderdale, Pembroke Pines and Hollywood through 9.30pm Thursday due to more heavy rain.
Source: Axios