Senate Bill 300, titled the "Heartbeat Protection Act," prohibits abortions after six weeks of pregnancy, with exceptions for abortions that risk the life of a mother and abortions up to fifteen weeks for pregnancies caused by instances of rape, incest or human trafficking.
The bill makes it a third-degree felony for physicians or anyone who "actively participate(s) in" an abortion in violation of the ban. It also prohibits state funds being used in any way to help a woman get an abortion from another state, and using "telehealth" or mail to receive abortion medication.
The governor's office released a photo of DeSantis signing the bill surrounded by several dozen lawmakers.
"We are proud to support life and family in the state of Florida," DeSantis said in a statement. "I applaud the legislature for passing the Heartbeat Protection Act that expands pro-life protections and provides additional resources for young mothers and families."
It also includes $25 million in funding for clinics and organizations that provide counseling and education for pregnant women and families.
"We have the opportunity to lead the national debate about the importance of protecting life and giving every child the opportunity to be born," said Republican state Rep. Jenna Persons-Mulicka. She said the past 50 years have seen a "culture" of abortion "that was created by seven men on the Roe vs. Wade court who got it wrong."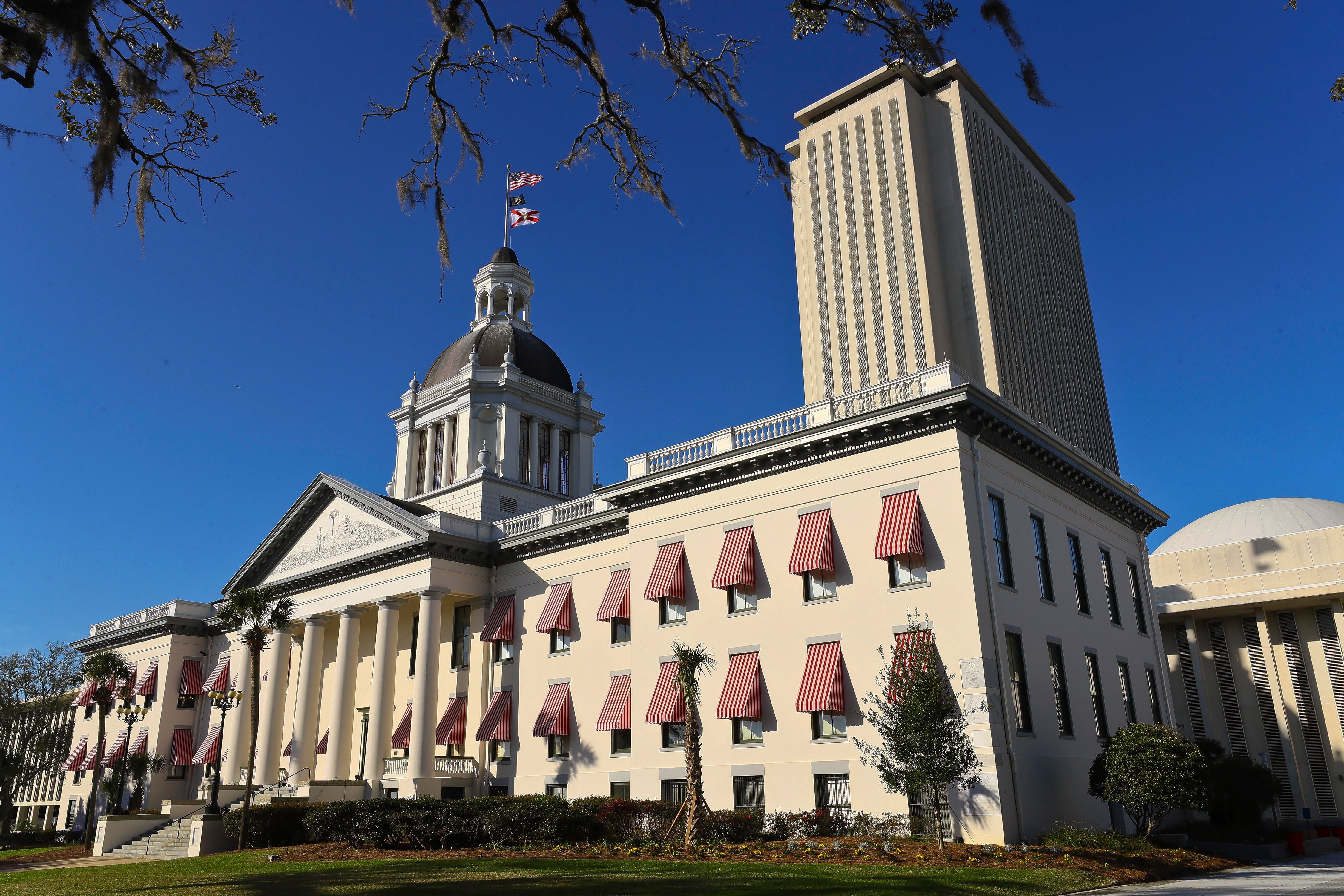 Florida's Senate already passed the ban on a 26 to 13 vote, with two Republican state senators from Miami and Tallahassee voting against it.
The ban comes as DeSantis is poised to launch a 2024 presidential run after Florida's legislative session ends in early May. He said in December 2022 that he is "willing to sign great life legislation" and at a press conference in February said he's "urged the legislature to work, to produce good stuff, and we will sign."
Even after being signed by DeSantis Thursday, the actual enactment of the bill is dependent on a lawsuit in the state's supreme court over the state's 15-week abortion ban that Republicans passed in 2022, according to the Florida chapter of the American Civil Liberties Union, a nonprofit organization involved in a lawsuit over the ban. The 15-week ban is still in effect as the state's highest court, which has four DeSantis-appointed judges, considers when to hear the case.
Florida's ban would further reduce abortion access in the Southeast. Mississippi and Alabama have a total abortion ban in place while Georgia has a six-week abortion ban. South Carolina's six-week abortion ban was ruled unconstitutional by the state supreme court, though there are attempts to pass a new ban in the state legislature.
According to Florida's agency for health care administration, the number of out-of-state abortion patients grew from 4,873 in 2021 to 6,709 in 2022.
During the nearly seven hours of debate Thursday, Republicans defended the ban, while Democrats shared their personal stories and experiences with abortion and criticized Republicans.
Republican state Rep. Mike Beltran portrayed the six-week ban as a "compromise" among Republicans that support the 6-week limit and those that support a total abortion ban, such as himself.
The House heard at least 54 amendments filed by Democrats, and mostly by female lawmakers, to delay the bill's passage, dilute the ban or keep the ban at 15 weeks. None were passed.
Democratic Florida Rep. Anna Eskamani filed an amendment to change the bill's name to the "Forced Pregnancy Act."
"It will not only ban abortion at a period where folks do not know they're pregnant at six weeks, but it forces you into pregnancy," she said. "That decision should be yours, your family, your doctors, and your faith, and not politicians."
"'This is a devastating vote. We might be the minority in this chamber, but we're not the minority outside," she added later on the House floor.
"We are propping up a political agenda on the backs of women and birthing people," said Democratic Rep. Michele Rayner-Goolsby.
Opponents to the abortion ban protested Thursday inside Florida's Capitol, and at one point were taken out of the House chamber as amendments were being heard on the bill. Earlier this month, pro-abortion rights protesters, including Florida Democratic party chair Nikki Fried, were arrested outside the Capitol building in Tallahassee. South Carolina state Sen. Josh Kimbrell, who is hosting DeSantis for an event next week at his church in the early presidential primary state, said he thought the ban would be "great" for DeSantis to have and talk about in a potential 2024 candidacy, and that "most Republican primary voters would resonate with the governor signing that bill in Florida."
"If we're going to boil it down to politics, it's important, because people are going to look at [the issue of abortion], especially in the post-Roe era and say, 'Where are you on the issue of human life?'" Kimbrell told CBS News in a phone call Thursday.
Whether 2024 Republican primary candidates support a national ban on abortion has been a litmus test for anti-abortion rights groups. A March Reuters/Ipsos poll found that 54% of Republicans say they'd be more likely to vote for a presidential candidate that supports abortion bans or restrictions.
Declared and potential candidates have been varied in whether they support national restrictions on abortion.
Former President Donald Trump, who appointed enough Supreme Court judges to establish the 6 to 3 majority conservatives have, has suggested Republicans "poorly handled" the issue of abortion access and that it led to losses in the 2022 midterms. Asked if he'd support a national abortion ban in March, Trump said "we're looking at a lot of different things," according to The Associated Press.
Former South Carolina Governor and United States Ambassador to the United Nations Nikki Haley said in February she would not support a "full out federal ban" on abortion, and said in Iowa on Wednesday that she doesn't "want unelected judges deciding something this personal."
Senator Tim Scott of South Carolina said during a trip to New Hampshire on Thursday that he would sign a 20-week national abortion ban as president, according to local station WMUR-TV. During a Wednesday interview with CBS News, Scott said he is "100% pro-life" but did not answer whether he'd support the 15-week abortion ban proposed by his fellow South Carolina Senator Lindsey Graham.
After the Supreme Court overturned Roe v. Wade in 2022, former Vice President Mike Pence has called for a national abortion ban. In a January interview with CBS News, he said he "certainly would support any pro-life legislation that Congress would take up" but added he believes the issue is "likely to be solved one state at a time."
As a congressman in 2013 and 2015, DeSantis voted for 20-week federal abortion ban bills, with exceptions for pregnancies caused by incest or rape. He has not clarified since becoming governor whether he'd support a federal national ban.
While the abortion ban could help DeSantis' conservative credentials in Republican primaries if he chooses to make a 2024 presidential run, recent cases of abortion being a key motivator for Democratic voters, such as the party's win in Wisconsin's Supreme Court race, show it could be a thorny issue for DeSantis in a general election.
"Him signing in the middle of the night behind closed doors, tells you everything you need to know about how politically toxic this is. DeSantis only reserves his closed door ceremonies for his worst bills," said a national Democratic strategist, who noted the private signing earlier this month of a bill allowing Florida residents to carry conceled guns without a permit.
Source: CBS News